Details

Category: Singapore Printing
Published on Thursday, 10-22-2015
Written by Super User
Hits: 9543
Tissue Printing Singapore . Paper napkins pringing Singapore,Serviette printing Singapore,At www.eprinting.sg we can print different types of the tissue such as : wallet tissue , tissue pack ,tissue box,and paper napkins ...
Paper Napkin/ Dinner Napkin is as following feature:
1)Paper napkin/Dinner napkin is quite strong and soft
2)Material: 100% virgin wood paper, 100% air laid, mixed pulp paper, recycled paper are for your option.
3)We can also produce the dinner napkin/ table napkin/ lunch napkin/ serviette/ paper napkin/ tall fold napkin/ beverage napkin/ fast food napkin/ lunch napkin available like200mm/ 240mm/ 250mm/ 275mm/ 300mm/ 230mm/ 400mm/ 430*380mm/ 330*250mm etc.
They could be made according to your sheet size, sheets per roll, layer, gsm and packing requirement.
4)Paper napkin/ dinner napkin could come with one or tweo color logo printing.
5) The packing can be printed according to your design.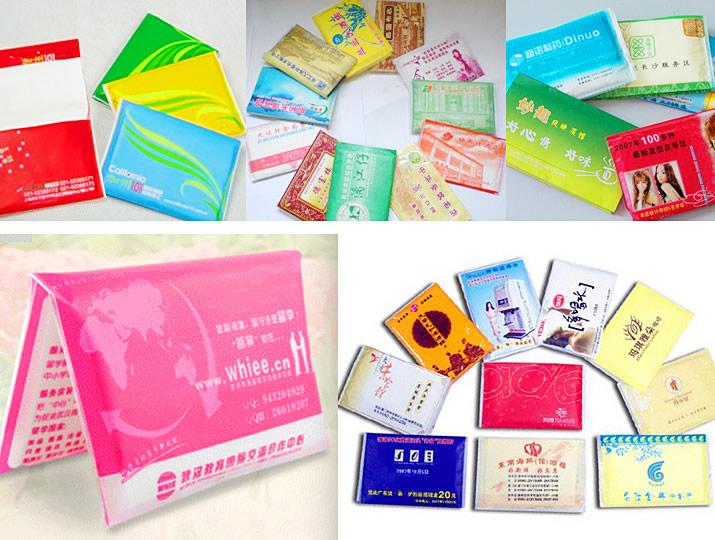 Tissue printing membership price list (钱夹纸巾会员价)
| | | | | |
| --- | --- | --- | --- | --- |
| | 500bags | 1000bags | 3000bags | 5000bags |
| 6pcs/pack | 189.00 | 279.00 | 700.00 | 900.00 |
| 8pcs/pack | 228.00 | 360.00 | 888.00 | 1290.00 |
| 10pcs/pack | 248.00 | 399.00 | 968.00 | 1580.00 |
Note: Tissue size 20cm*18cm 3 layers
lead time 8-10 working days upon confirmation
Tissue printing price list (钱夹纸巾普通价)
| | | | | |
| --- | --- | --- | --- | --- |
| | 500bags | 1000bags | 3000bags | 5000bags |
| 6pcs/bag | 210.00 | 300.00 | 800.00 | 1050.00 |
| 8pcs/bag | 268.00 | 399.00 | 940.00 | 1450.00 |
| 10pcs/bag | 288.00 | 430.00 | 1010.00 | 1650.00 |
Note: Tissue size 20cm*18cm 3 layers
lead time 8-10 working days upon confirmation