Details

Category: Singapore Printing
Published on Thursday, 11-21-2012
Written by EPRINTING.SG
Hits: 35726

Kraft paper bag printing,Paper bag ,Paper box printing, Red Wine Paper Bag, Gift paper bag printing Singapore ,FSC-certified paper bag Singapore

Outside of the paper bags can be gloss laminated, spot UV, UV vanish, hot stamping or gloss vanish to make it strong and durable. Paper bags can be custom printed with your company colors and design.
Introducing Paper Bag Printing: Your premier destination for eco-friendly, stylish, and versatile custom paper bags. We specialize in providing top-quality printed paper bags for businesses, events, and personal use, ensuring that your brand or message stands out while making a positive impact on the environment.
At Paper Bag Printing, we offer a wide variety of options to suit your specific needs:
Customization: Choose from an array of sizes, styles, and materials to create the perfect paper bag for your requirements. From sleek and modern designs to classic and elegant options, we have something for every taste and occasion.
Environmentally Friendly: Our paper bags are made from sustainable, recyclable materials, making them a responsible choice for your business or event.
High-Quality Printing: Our advanced printing technology ensures that your logos, designs, or messages are reproduced with exceptional clarity, vibrant colors, and crisp details.
Fast Turnaround & Shipping: We understand the importance of prompt delivery, which is why we offer quick turnaround times and reliable shipping options to ensure that your paper bags arrive on time and in perfect condition.
Outstanding Customer Support: Our dedicated customer service team is committed to providing you with the assistance and guidance you need to make your paper bag printing experience as smooth and enjoyable as possible.
Choose Paper Bag Printing for all your custom paper bag needs and discover the difference that exceptional quality, eco-consciousness, and superior customer service can make. Place your order today and let us help you showcase your brand or message in a stylish, environmentally friendly way!

Paper Bag(250gsm ivory board)Price list(membership)
手提袋(250克白卡纸)价格表(会员)
| | | | | |
| --- | --- | --- | --- | --- |
| P/Qty | 100pcs | 200pcs | 500pcs | 1000pcs |
| S (215*70*310mm) | 299.00 | 388.00 | 630.00 | 900.00 |
| M (250*90*320mm) | 310.00 | 430.00 | 680.00 | 978.00 |
Material:250gsm A Level ivoty board with matt lamination,full color printing
Paper Bag(250gsm ivory board)Price list
手提袋(250克白卡纸)价格表
| | | | | |
| --- | --- | --- | --- | --- |
| P/Qty | 100pcs | 200pcs | 500pcs | 1000pcs |
| S (215*70*310mm) | 334.00 | 423.00 | 665.00 | 935.00 |
| M (250*90*320mm) | 345.00 | 465.00 | 715.00 | 1013.00 |
Material:250gsm A Level ivoty board with matt lamination,full color printing

For more quotation please email us enquiry@eprinting.sg[xss_clean] //<!-- document.getElementById('cloak58545')[xss_clean] = ''; var prefix = 'ma' + 'il' + 'to'; var path = 'hr' + 'ef' + '='; var addy58545 = 'enquiry' + '@'; addy58545 = addy58545 + 'eprinting' + '.' + 'sg'; var addy_text58545 = 'enquiry' + '@' + 'eprinting' + '.' + 'sg'; document.getElementById('cloak58545')[xss_clean] += ''+addy_text58545+'<\/a>'; //--> [xss_clean]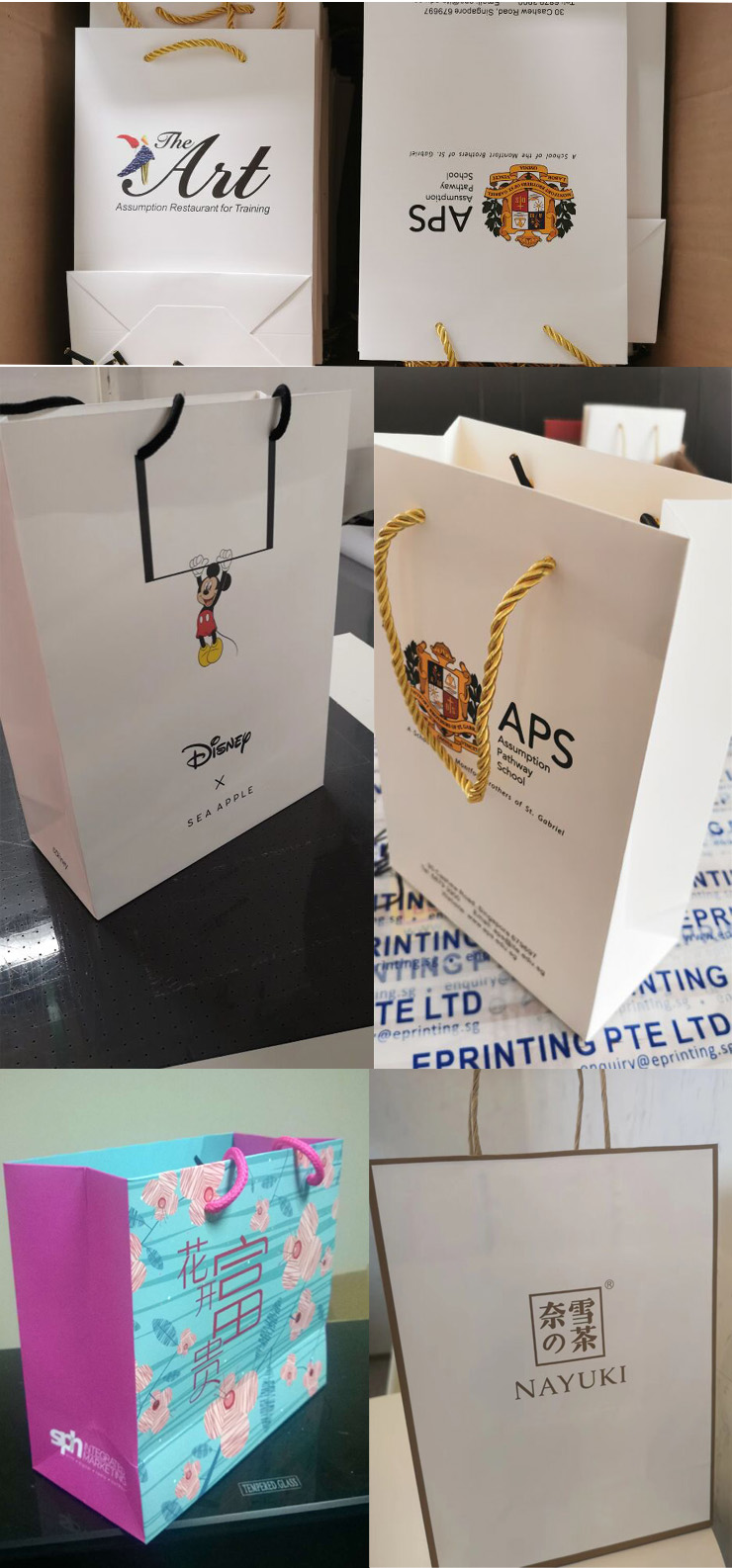 Ready Mould Paper Bag, Red Wine paper Bag, Gift Paper Bag